New Members
Atos Worldline the European leader in end-to-end services for critical electronic transactions joins to take an active part in the OW2 Open Source Accessibility initiative (OSAi).

Community News
Paris Open Source Summit, December 6-7, Paris

We are pleased to announce that Savoir-faire Linux is joining ActiveEon, Knowage (Engineering Group), iKoula, and CHOReVOLUTION in the OW2 village. OW2 is also organizing four conference sessions in the conference program, bringing around 25 international speakers to the program. More.
EclipseCon Europe, October 24-26, 2017, Ludwigsburg

EclipseCon is over now, check out the photos of our booth and download the slides of the STAMP and CHOReVOLUTION project presentations. More.
Collaborative Projects
Now you can develop and run innovative IoT-enabled applications with CHOReVOLUTION. Try it, and attend our upcoming hands-on Paris workshop. More.

Christophe Gourdin, from project partner Inria, talks about OCCIware's model@runtime component in this recently posted interview. More.
Attend STAMP project presentation at POSS and learn about new testing tools for DevOps. More.
In the OW2 Community Ecosystem
The OW2 initiative OSAi (Open Source Accessibility) will be presented at Paris Open Source Summit in a dedicated session including an open discussion. More.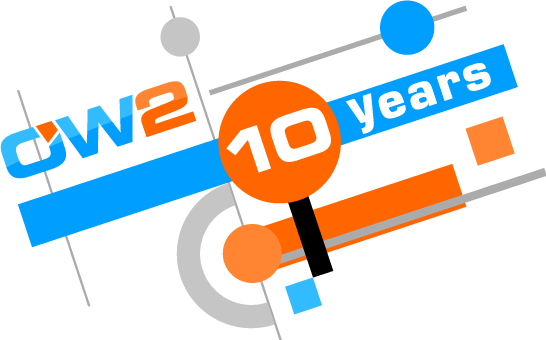 Discover the latest testimonials and our three infographics: OW2 by numbers, OW2 timeline and the OW2 process. You are welcome to contribute your own testimonial.
Associate Organization
CNLL, the French national council for open source software, is now an OW2 associate organization. It federates 13 local FLOSS associations representing 400 software companies.

OW2 Community Notice
Board meeting: The next meeting of the Board of Directors will be held, by web-conference, on Tuesday december 5, 2017, 9:30am to 12:30pm (Paris time).


Outlook
FOSDEM, February 3-4, Brussels
FOSDEM is on our Event Plan for 2018. We have submitted for a booth and a conference. Stay tuned or contact us if you would like to join!
Cloud Computing World Expo, March 21-22, Paris
We will be at Cloud Computing World Expo 2018, with a booth and several conference sessions coordinated by OW2. Contact us if you would like to join us on the booth.
OW2con'18, June 7-8, Paris
OW2's next annual conference, OW2con'18 will take place June 7-8, 2018. It will be hosted this year again at Orange Gardens, Paris-Chatillon. Save the date!
fisl, Porto Alegre, July 11-14, Porto Alegre
fisl conference has been postponed from October 2017 to July 11-14, 2018. Stay tuned for more information early 2018 about OW2 presence there!
Follow us on Twitter

Can't wait for the next OW2 newsletter? Feel free to follow us on Twitter, use the icons below for recent publications or read our social media page. More.