Project News
New Projects
OCCInterface has been accepted in the OW2 codebase. An outcome of the OCCIware collaborative project, OCCInterface is a web-based console used to test and manage OCCI extensions and connectors.
Projects Updates
ASM version 6.0 has been released, now providing full support for Java 9 class files. The ASM codebase has been migrated to GitLab. More.
LemonLDAP::NG 1.9.13 is out. It comes with bug fixes and enhancements, including a fix in the usage of JSON and the support of complex configurations. More.
Community News
EclipseCon Europe, October 24-26, 2017, Ludwigsburg

Visit the OW2 booth at EclipseCon! We will showcase the STAMP project toolbox, the OCCIware environment, and the CHOReVOLUTION Studio. More.
Open Source Summit Paris, December 6-7, Paris

Only two pods left to exhibit on the OW2 Community Booth! Contact us quickly if you would like to exhibit at POSS. OW2 is also organizing several conference sessions in the conference program. More.
Collaborative Projects
Discover how the new CHOReVOLUTION platform can help you develop and run innovative IoT-enabled applications. Try it, and attend our upcoming hands-on Paris workshop. More.

OCCIware published an FOSS IoT Platforms Comparative Study. Check it out!
You have a robust suite of tests? Use PIT/Descartes to double check. Read more in this article by XWiki CTO Vincent Massol. More.
In the OW2 Ecosystem
IoT Solutions World Congress is taking place in Barcelona. As open source ambassador of the event, OW2 fosters crossed fertilization around the new CHOReVOLUTION platform.
Visit our 10th Anniversary Section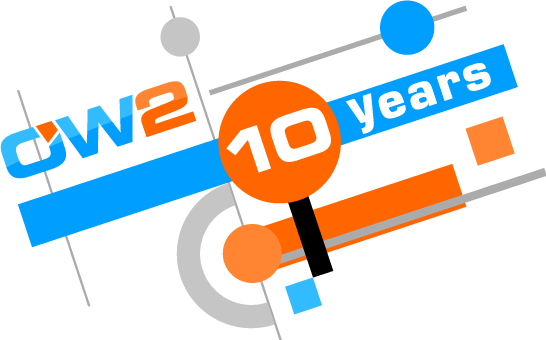 Discover the latest testimonials and our three infographics: OW2 by numbers, OW2 timeline and the OW2 process. You are welcome to contribute your own testimonial.
OW2 Community Notice
Board meeting: The next meeting of the Board of Directors will be held, by web-conference, on Tuesday december 5, 2017, 9:30am to 12:30pm (Paris time).


Outlook
FOSDEM, February 3-4, Brussels
FOSDEM is on our Event Plan for 2018. We'll submit for a booth and conference proposals. Contact us if you would like to join us or give a talk in Brussels!
Cloud Computing World Expo, March 21-22, Paris
We will be at Cloud Computing World Expo 2018, with a booth and several conference sessions coordinated by OW2. Contact us if you would like to join us on the booth.
OW2con'18, June 7-8, Paris
We are pleased to announce our next annual conference, OW2con'18 will take place June 7-8, 2018. It will be hosted this year again at Orange Gardens, Paris-Chatillon. More details and the Call for Presentation coming soon, stay tuned!
fisl, Porto Alegre, July 11-14, Porto Alegre
fisl conference has been postponed from October 2017 to July 11-14, 2018. Stay tuned for more information early 2018 about OW2 presence there!
Follow us on Twitter

Can't wait for the next OW2 newsletter? Feel free to follow us on Twitter, use the icons below for recent publications or read our social media page. More.