New Members
Savoir-faire Linux: the Canadian systems integrator joins OW2 to leverage its ecosystem in its European development and ramp up promotion of the LemonLDAP project.
Project News
Projects Updates
LemonLDAP::NG version 1.9.10 is out, a minor release with bug fixes and enhancements. More.
hammr 3.7.5 is out! Some bug fixes plus VMware VCenter image publication modifications and Software Bundle support restrictions. More.
Community News
OW2con'17 and OW2 10th Anniversary Party, June 26-27, Paris
Check out the conference slides and videos, and photos of the conference and the party. Please help us make next year's event even better by giving us your feedback on our short satisfaction survey.
Visit our 10th Anniversary Section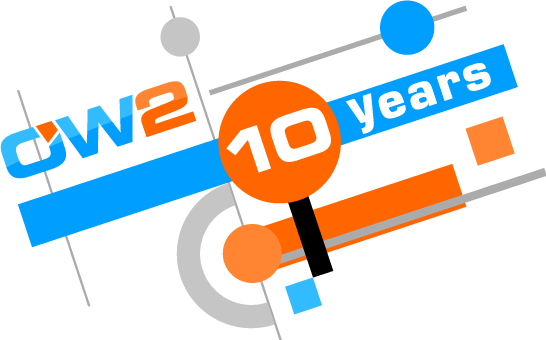 Discover our latest testimonials and our three infographics: OW2 by the numbers, OW2 timeline and the OW2 process. You are welcome to contribute your own testimonial.
EclipseCon Europe, October 24-26, 2017, Ludwigsburg

Visit us on OW2 booth at EclipseCon in Germany ! CHOReVOLUTION R&D project will showcase its CHOReVOLUTION Studio, enabling to compose Internet of Everything Applications. More.
Paris Open Source Summit, December 6-7, Paris

The Call for Participation in the OW2 community booth is launched, please stay tuned for further annoucements. Contact us quickly to reserve your space! Note: the official POSS Call for Presentation is open until July 25. More.
Collaborative projects

OCCIware receives IEEE ICIOT 2017 Best Paper Award for its paper "Mobile Cloud Robotics as a Service with OCCIware", congrats to the team! More.
We produced a cool comic strip to introduce what the STAMP "Software Testing Amplification" project is about. Check it out! More.
Outlook

We will exhibit this year again at fisl with our Brazilian members. Please let us know quickly if you want to join us in Porto Alegre, October 1-4.