Project News
New Projects
Two new projects have been accepted by the Technology Council for inclusion in the OW2 code base at the incubation level:
CHOReVOLUTION, a platform for developing and deploying distributed service-oriented and IoT-enabled applications.
Sympa, the well known solution for mailing-list management, broadly used by OW2.
Projects Updates
Community News
CHAOSSCon and GrimoireCon Europe, February 2, Brussels
CHAOSS (Community Health Analytics Open Source Software) and GrimoireLab have invited OW2 to present how we use metrics in OW2 projects and code base. More.
FOSDEM, February 3-4, Brussels
FOSDEM is a wrap! It was busier than ever! Great to see all the friends who stopped by the OW2 table. On display this year were STAMP, FusionDirectory, AuthzForce and the CHOReVOLUTION beta testing campaign. More.
Cloud Computing World Expo, March 21-22, Paris

OW2 will be at Cloud Computing World Expo 2018. Come by our booth and attend the "Open Cloud Forum by OW2". Contact us for exhibition and speaking opportunities. More.
The Call For Presentations for OW2con'18 is still open! Do not forget to send your proposal before the February 20 deadline. We are happy to announce our first Silver sponsor: Engineering Group (Knowage Project). Check out our affordable sponsoring opportunities. More
In the OW2 Community Ecosystem
The Eclipse Foundation has launched the Call for Papers for EclipseCon France in Toulouse (June 13-14). The deadline to submit is March 19, 2018.
FOSS Backstage (June 13-14, Berlin) is a new conference on everything related to FOSS governance, collaboration, legal and economics. The Call for presentation is open until February 18. More
Collaborative Projects Round Up
Test CHOReVOLUTION for a chance to win a drone! Check out the short video, try this innovative IDRE for IoT-enabled applications, fill in the quick feedback questionnaire by Febr. 9 . More.

The OCCIware research project is over and is now transitioning into a new phase of industrial exploitation. Read the Press Release or the "LeMagIT" Press Article (french).
STAMP mutation testing for DevOps was introduced at FOSDEM, by Vincent Massol XWiki CTO, in his talk on "Advanced testing in action on a Java project". More.
OW2 Community Notices
Board meeting: The next meeting of the Board of Directors will be held on Wednesday, March 21, from 12:30am to 5:00pm and will be followed by the General Assembly, at 6:00pm, at Paris Cloud Computing World Expo (Hall 5.1, Porte de Versailles).
Elections: The election process is open, the deadline for Individual and Corporate members application is February 14.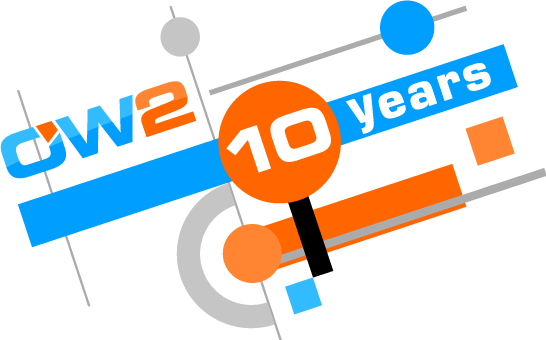 Discover the latest testimonials and our three infographics: OW2 by numbers, OW2 timeline and the OW2 process. You are welcome to contribute your own testimonial.
Outlook
fisl, Porto Alegre, July 11-14, Porto Alegre
The 2018 fisl conference is scheduled for July 11-14, 2018. Please do let us know if you are planning to participate!
Follow us on Twitter
Can't wait for the next OW2 newsletter? Feel free to follow us on Twitter, use the icons below for recent publications or read our social media page. More.