Community News
Cloud Computing World Expo, March 21-22, Paris

Come visit us on booth G16/F17, shared with ActiveEon. Contact us for last minute exhibiting offers. See the program of the Open Cloud Forum by OW2. More.
OW2con'18, June 7-8, 2018, Paris-Châtillon
The Call For Presentations deadline has been extended to March 16, submit now! Message to Project Leaders: the OW2con'18 Best Project Awards Contest is launched, apply for your project. We are happy to announce the new OW2con website, do not hesitate to send your feedbacks! More
OW2 at Google Summer of Code
OW2 is proud to announce that it has been accepted as Mentor Organization for the 2018 Summer of Code. Please spread the word. Students: check out the ideas page and contact us before applying. More.
In the OW2 Community Ecosystem
ActiveEon and DocDoku will take part in the upcoming Big Data Paris event, March 12 and 13 2018.
The Eclipse Foundation has launched the Call for Papers for EclipseCon France in Toulouse (June 13-14). The deadline to submit is March 19, 2018.
FOSS Backstage (June 13-14, Berlin) is a new conference on everything related to FOSS governance, collaboration, legal and economics. We submitted to present the OW2 Open Source Market Readiness Index. More.
OW2 is Institutional and Associative partner of Open Expo Europe, June 6-7 in Madrid. Special discount codes available to OW2 members for Free Passes. More.
OW2 is partner of the upcoming IoT Solutions World Congress tradeshow (October 16-18, Barcelona). Event organizers are offering us specific conditions for a community booth. Check it out and contact us if ou are interested. More.
Collaborative Projects Round Up
Congrats Giampiero Di Paulo (DXC), drone winner of our CHOReVOLUTION beta testing campaign! All designers of IoT-enabled applications should follow your example and try this modern IDRE. More.

The OCCIware research project is over and is now transitioning into a new phase of industrial exploitation. Read the Press Release or the "LeMagIT" Press Article (french).
Discover STAMP Innovative Testing Methods at Cloud Computing World Expo. Attend the March 21 afternoon presentation and enjoy live demos on OW2 booth. More.
OW2 Community Notices
The General Assembly will be held in the Amsterdam Room at CCWE in Paris on March 21 at 6:00pm and the next meeting of the Board of Directors will be held on Thursday March 22, from 9:00am-12:00pm.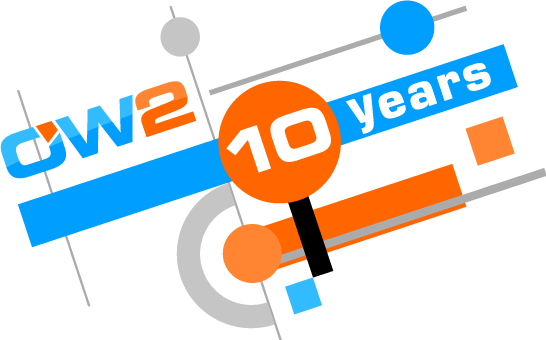 Discover the latest testimonials and our three infographics: OW2 by numbers, OW2 timeline and the OW2 process. You are welcome to contribute your own testimonial.
Outlook
fisl, Porto Alegre, July 11-14, Porto Alegre
The 2018 fisl conference is scheduled for July 11-14, 2018. Please do let us know if you are planning to participate!
Paris Open Source Summit, December 5-6, Paris
We are partner of the Paris Open Source Summit 2018 and will participate on a booth and in the conferences. Stay tuned for more information soon!
Follow us on Twitter
Can't wait for the next OW2 newsletter? Feel free to follow us on Twitter, use the icons below for recent publications or read our social media page. More.