>Project News

>Project Updates
24 Sep 15: XWiki 7.2 Released (Posted by: gdelhumeau)

16 Sep 15: XWiki 7.2 Release Candidate 1 Released (Posted by: enygma)

02 Sep 15: XWiki 6.4.5 Released (Posted by: evalica)

02 Sep 15: XWiki 7.2 Milestone 3 Released (Posted by: mflorea)
Project leaders: Do not forget to use the OW2 Forge to tell everybody about your project updates. News will appear on the OW2 forge, our home page and in this newsletter
>Community News
OW2 Programming Contest 2015
The evaluation process is finished. The final results will be announced next week at the award conference, October 15-16 at Tianjin University. More.
ICT 2015, October 20-22, Lisbon
European projects AppHub "The European Open source marketplace" and RISCOSS "Managing Risk in Open Source Projects" will be presented on Oct. 22. More
OSCON Europe, October 26-28, Amsterdam
Visit us booth #N1 at OSCON in Amsterdam and help us promote the community. Take advantage of the 20% discount granted for OW2 members. More.
CLASS Conference, Nov. 5-6, Bled, Slovenia
OW2 TC Chair Jean Parpaillon and CEO Cédric Thomas will give presentations at CLASS (Cloud Services in Europe) 2015 on OCCIware & AppHub projects. More.
RISCOSS Convention, November 16, Paris
The RISCOSS project is going public. If your job is related in any way to open source project governance try out RISCOSS online now, give us your feedback and make sure you attend the convention. More.
Cloud Plugfest, November 16-17, Paris
Learn about cloud standards and improve the interoperability of your project. Join the OCCIware team and attend hands-on sessions on protocols such as OCCI (OGF), TOSCA (OASIS) and CDMI (SNIA). More.
OW2con'15, Nov. 17-18, Paris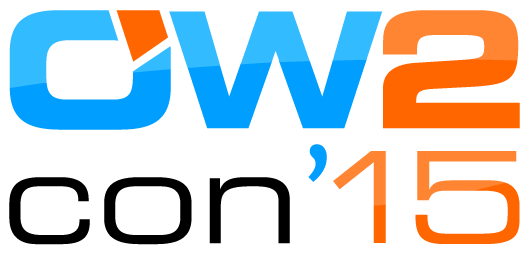 Registration for OW2con'15 is open, check out the program and reserve your pass now! Sponsors: check out the OW2con'15 sponsorship proposal. More.
Paris Open Source Summit, November 18-19, Paris
The final program of the international sessions coordinated by OW2 is published now. Visit us on booth #C18/D19, shared with SpagoBI, ActiveEon, OpenIO and iKoula. More
AppHub SQuAT Fest, December 7-8, Brussels
Supported by the European Commission, this hands-on event is dedicated to open source projects looking to use the OW2 SQuAT quality tools and join the marketplace. More.
OW2 Webinars
OW2 Project Leaders: do not miss a great opportunity to afford visibility to your project. Register your webinar and use the Youtube replay in your communications. Please check out the dates and book your slot now. More
OW2 Community Notices
Board meeting: The next meeting of the Board of Directors will be a face-to-face gathering on Monday, October 16, in Paris.
>Outlook
FOSDEM, January 30-31, 2016, Brussels
OW2 is looking into participating in FOSDEM and we are working on submissions to showcase OW2 projects and the community. Please contact us quickly if you would like to join.
Cloud Expo Europe, April 12-13, 2016, London
Save the date for next Cloud Expo Europe. Once again, OW2 is involved in organizing the Open Cloud Developer Park and its conference program, and there will be an OW2 exhibition space. Please contact us if you are interested. This is a great visibility opportunity for our members.