>Project News

>Project Updates
17 June 15: XWiki 7.1.1 Released (Posted by: gdelhumeau)

15 June 15: XWiki 7.1 Released (Posted by: evalica)

08 June 15: Talend Open Studio for Data Integration 6.0.0 RC1 available (Posted by: pcoffre)

05 June 15: XWiki 7.1 Release Candidate 1 Released (Posted by: tmortagne)
>Community News
O'Reilly OSCON Convention, July 20-24, Portland
Visit the OW2 booth in the non profit pavilion or use the booth as a logistical base and help us promote the community. More
fisl, July 8-11, Porto Alegre
Visit the OW2 team and Brazilian member Konsultex, booth #22, next week at fisl. We will be demonstrating two collaborative projects: AppHub and RISCOSS. More
STAF2015, July 20-24, L'aquila
The presence of collaborative projects at STAF 2015 includes a presentation of H2020 EU project CHOReVOLUTION and French project OCCIware in the project showcase sessions. More
OW2 Programming Contest 2015
Message to students: registration has started and is open until July 15. Check out the topics list and make your choice! The award conference will take place on October 15-16 at Tianjin University. More
OW2con'15, November 17-18, Paris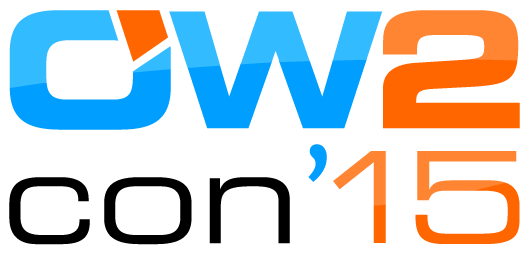 CALL FOR PRESENTATIONS for OW2con'15 now open! Please send your proposal now (deadline August 14). OW2con'15 Day 1 will take place at Orange Labs, Issy-Les-Moulineaux, Day 2 will be co-located with Paris Open Source Summit.
Paris Open Source Summit, November 18-19, Paris
OW2 wil coordinate four sessions: Open Source Community Summit, European Collaborative Innovation, Local government and Open Source, and Special Invited country sessions. We are also working on an OW2 Community Booth, Let us know if you are interested in sharing it with us! More
OW2 Webinars
OW2 Project Leaders: do not miss a great opportunity to afford visibility to your project. Register your webinar and use the Youtube replay in your communications. Please check out the dates and book your slot now. More
OW2 Community Notices
Board meeting: The next meeting of the Board of Directors will be held by webconference on Wednesday, September 9, 2015.
>Outlook
OSCON Amsterdam (Oct. 26-28)
We have submitted a few presentations proposals for OSCON Amsterdam. Please let us know if you have any plans for OSCON in Portland or Amsterdam, so we can coordinate our efforts.
Cloud Expo Europe 2016, London
The Open Cloud Developer Park at Cloud Expo Europe will be held once again in 2016. Once again, OW2 is participating in designing the conference program. We are also in discussions with the organizers on the opportunity of setting up an OW2 exhibition space within the Park. Please contact us if you are interested; we need your feedback.
CLASS Conference, Nov. 5-6, Bled
OW2 CEO Cédric Thomas has been invited to join the Progam Committee for CLASS 2015, taking place November 5-6.
ICT 2015, October 20-22, Lisbon
We are submitting a proposal for a networking session at ICT 2015 in collaboration with the PaaSage project. We are also applying for a booth at the ICT exhibition. More details and confirmation coming soon!